From Jefferson to the White House
Visual communication design alumna Abbey Pitzer joins Biden's Office of Digital Strategy team
... it's a cognitive and strategic approach that goes beyond making something look nice.
Abbey Pitzer '19 has always considered herself a creative individual but wasn't sure how to translate this passion into a profession. In spring 2015, she attended Jefferson's Graphic Design Discovery Day, an annual event of tours and Q&As for accepted and prospective students of the program and decided that she wanted to pursue a career in graphic design.

Pitzer has come a long way from designing posters and t-shirts for her high school class. The Jefferson alumnae has taken her design skills to the national stage after joining Joe Biden's successful presidential campaign.
Pitzer joined the campaign in September 2019, just as the Democratic primary was getting into full swing, where she began working on building the Biden brand from the ground up—a process that both excited and intimidated her. When the pandemic began to peak in early 2020, Pitzer rolled with the punches and didn't let the shift to full remote work slow her down. 
Pitzer helped design a multitude of illustrated people for different types of campaign assets, such as event graphics, tickets, and the JoeBiden.com homepage. These illustrated figures represented people of various races and disabilities to convey the message of positivity and inclusivity that the Biden-Harris campaign encouraged. During this period, she was promoted to brand ambassador.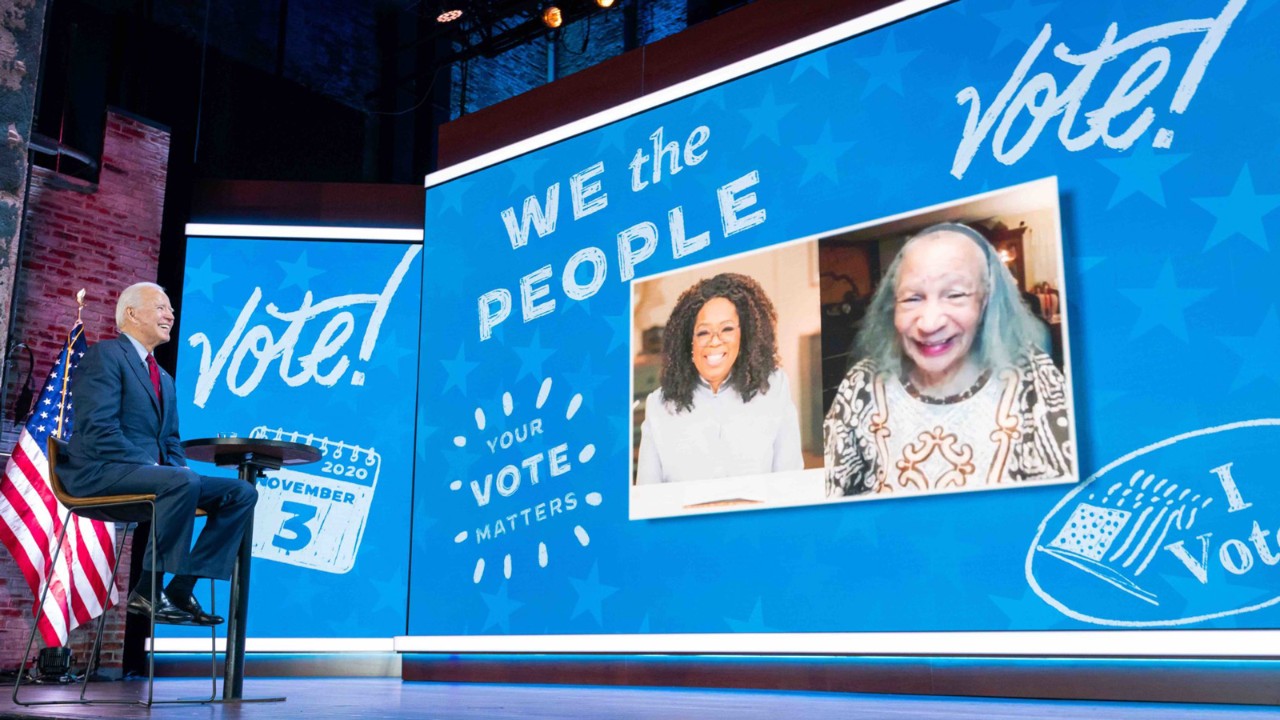 Pitzer recalls Election Day, sitting around the television with her family watching the numbers climb for both parties, and breathing a sigh of relief as Biden finally ticked past 270 electoral votes.

"All the late nights, all the stress to hit tight deadlines, all the pressure to execute well, it was all worth it—we had won."
Following the election, Rob Flaherty, the Digital Director of Strategy at the White House, invited Pitzer to stay on the campaign through the inauguration to help with graphics for the campaign's email team and social channels. In late December, she received the offer for a full-time position as a designer in the Office of Digital Strategy at the White House. Pitzer continues to work on digital and printed assets to represent the Biden-Harris brand in innovative and new ways.
Beyond the Biden administration, Pitzer hopes to continue designing with a sense of purpose with the goal to "do good" with her illustrations. In the future, she hopes to open her own design studio or illustrate a children's book.
Pitzer attributes much of her success to the experiences, education, and opportunities she received as a student at Jefferson. 
"The University's visual communication design program teaches you all of that from the ground up. But more importantly, it instills a solid foundation of design thinking that's necessary for problem-solving in the real world. They focus on teaching design thinking and thinking about a system as a whole—it's a cognitive and strategic approach that goes beyond making something look nice."