Editor's note: This article was written in March 2020, just before the pandemic shut down the university and just about everything else. Since then, Harnish was able to travel safely back to Malawi, where he is teaching and working for the fall semester.
Africa's population will likely double in the next 30 years. Professor Chris Harnish has enlisted his Jefferson students to explore how design can solve issues this growth poses to the healthcare system in Malawi, a southern African country that's Harnish's home away from home. It's immersive, hands-on learning in a radically different environment, an education that'll last. For whatever help the students can provide in research and solutions, Harnish knows that Malawi will them teach them something greater.  
At 8:30 a.m. on a Friday in February, the voices of students and professors rebound beneath the honeycomb grid ceiling of the second-floor studios of Jefferson's Architecture and Design Center. Some classes are carrying out critiques in open spaces. Others cluster around design carrels crowded with models, foam core, and cardboard. 
Chris Harnish, associate professor of architecture, stands at one end of the space and gathers his students between the rows. With a voice on the soft side, a wide grin, and tousled hair, he's the friendly, relatable sort of professor, a demeanor that belies the exacting nature of this course.
This is Architecture 508, also known as "fifth-year studios." His section is known as the "Global Studio," though these days, it's all about Malawi.
Don't get too comfortable, Harnish tells his students. They have two video calls coming in next door at the Kanbar Campus Center from points across the globe.
A trio of students—Adam, Kate, and Enya—set off to answer the first, a call from Linda Robinson, a Peace Corps midwife with years of experience in Malawi.
Harnish's phone buzzes and his screen lights up. Stefano Vatteroni has just texted. Vatteroni is a Malawian architect. He recently completed drawings for renovations at Queen Elizabeth Central Hospital, in Blantyre, Malawi. He was supposed to be the second call, but he's momentarily lost power, a common occurrence in southern Africa. 
Malawi is one of the economically poorest countries, yet it has one of the fastest-growing populations on Earth. The hardwood reserves are mostly gone, cut down to fire ovens for bricks. All steel is imported. Roads are mostly treacherous. In Vatteroni's lifetime, the population has more than doubled. The United Nations predicts that in the next 30 years, Malawi will likely jump from 19 million to 45 million. It's a good place for architects who are up for a challenge.
Malawi's challenges are a microcosm of Africa's. By 2050, the continent's population will likely go from 1.2 billion to 2.5 billion, radically outpacing every other continent, according to the World Health Organization and the UN. Against this immense challenge—the skyrocketing need for housing units, schools, hospitals, roads, and more—Harnish has zeroed his Architecture students in on the health infrastructure of Malawi. Hence the calls from Robinson and Vatteroni. To him, health infrastructure is the most critical issue there is.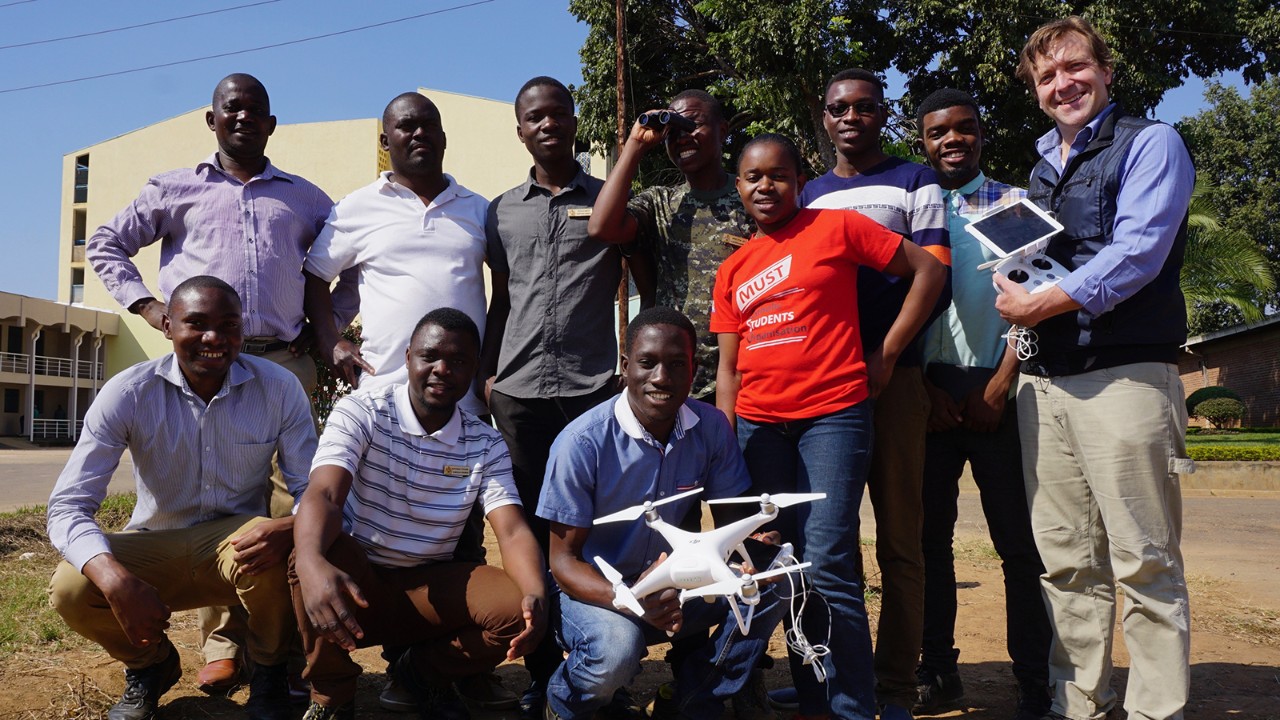 Vatteroni texts again, the power's back on, and the second group heads out to Kanbar. It's a wet and cold morning, and the students, Hutton, Adam, Matt, and Solomon, dodge puddles and hike their shoulders against the rain. Once they reach their Kanbar conference room, the team plug in laptops. In turn their screens are blank and without sound, until at last a man with close-cropped hair and rectangular glasses appears. A ceiling fan turns behind him. 
Over the next hour, Vatteroni proves something of a practical Buddha.
"From a spiritual point of view, beauty gives energy," Vatteroni says. 
Descending into particulars, he explains that a well-designed health clinic will give rise to training schools, chapels, food stands, and more, and if it has "roots," by which he means that Malawians themselves have built it with Malawian materials, it will evolve to meet Malawian needs. Malawi has great materials, he says. Rubber and eucalyptus trees, which grow well there, can be pressed and laminated into excellent boards. It must be of the place.
The students ask Vatteroni about the rebuild at Queen Elizabeth Central Hospital.
Vatteroni tells them that he was working on a Malawian banker's wine cellar when the banker fell. The banker was rushed to Queen Elizabeth. While known as one of the best hospitals in the country, the facility was inherited from the colonial era, run down and overburdened. Disturbed by the conditions there, the banker wrote a check, and Vatteroni got busy. The rebuild stabilized power with solar panels, increased patient privacy, and improved hygiene, sanitation, water quality, and pest control, all while using local tradespeople and, to the degree possible, local materials.
"You could use steel from China, or bring in a container full of 3D printed stuff, and it might be good for the building," Vatteroni says, "but it won't be good for Malawi."
Chris Harnish traveled Africa multiple times in his twenties and thirties. On one journey, he found himself in a brutal heatwave on the Mozambique coast. He hung a sharp left up into the mountains of Malawi, a place known for its mild climate. He found a deeper relief. 
He'd grown up in the Midwest as the son of a minister and a schoolteacher. Something in the way Malawians treated one another, an everyday kindness, felt right to him. A freshwater lake reminded him of home. 
Malawi had pain and trouble—HIV and tuberculosis, crime, poverty—but it had a sense of social cohesion and communal good that he's struggled to find in America. 
Neither its distance from the world he'd known, nor his status as a stranger bothered him. In fact, he liked it. As a kid in a homogenous Michigan farm town, being on the other side of otherness felt good to him.
At journey's end, Harnish returned home, which at that time was New York City. There, he worked at a high-flown architectural firm, designing Manhattan art galleries and, for example, staircases for media celebs. 
Before long, he quit New York to return to South Africa, taking a job with Architecture for Humanity, a nongovernmental organization that placed architects in humanitarian projects across the globe. Once, in a Johannesburg bar, an Afrikaner got in his face.
"You Americans are always coming down here, trying to fix Africa," Harnish recalls the man saying. "Go the [expletive] home."
When asked how he reacted, Harnish smiles and laughs. He doesn't exactly remember. 
But the question stuck. "I do it for me," he said. "This isn't some ritualistic sacrifice. I want to be there."
The story of Africa is fraught with intrusions from the "Global North." From centuries of brutal exploitation to a litany of better-hearted but ill-fated interventions, often self-serving. America and Europe have a bad record on humanity's first continent. 
So, why get involved? 
Harnish chooses this work because to do so rewards who he is. He helps designers race against the population boom because he is an architect and the problem is, to his mind, "the greatest built environment challenge in the world." He works in Malawi because it's Malawi.
"I'm not trying to rescue Africa," Harnish says. "I'm just and architect trying to do compelling work in a place I like to live."
Harnish began teaching at Philadelphia University in 2009 but kept his connections to Malawi alive. He's returned almost every year since and in 2017 taught at the Polytechnic of the University of Malawi as a Fulbright Scholar. Recently, Harnish formalized his work in the country into the Malawi Health Design Collaborative (MHDC), a joint effort between Thomas Jefferson University and several Malawian stakeholders, including the country's central hospitals, the Polytechnic, the University of Malawi College of Medicine, Kamuzu College of Nursing, and Malawi's Department of Buildings.
On the aim of the MHDC, Harnish is adamant: The MHDC is not about one-offs. It's not about copy-and-paste plans from the West. It's not about importing materials, builders, or even architects. The MHDC is about system strengthening. Its goal is strengthening Malawi from within, building its capability to meet the demand for local sustainability. Harnish recalls saying as much when he pitched the MHDC to the Malawi Institute of Architects last year.
"That was the hardest presentation I've ever had to give," he says. "I could feel them staring at me, wondering, 'Who is this guy, and what's he doing in Malawi?' I had to impress upon them that I was not there to take work away from Malawi, but as an academic, to facilitate better opportunities, more rigorous practice, fill voids that the profession currently needs filled."
For now, MDHC is providing evidence-based design research for the Ministry of Health. Harnish wants to create the best possible architectural, infrastructural, environmental, and health-outcomes data to help the country rapidly produce the medical infrastructure they'll need. 
"It's a unique niche. There's simply not enough architects to conduct the design research that's needed. They're fighting to keep up just getting buildings built. Academia can play a critical role. These are new design challenges in emerging contexts; cut-and-paste designs from the north don't solve them." 
With each semester, Harnish and his students are adding to and honing a body of data that examines medical literature to understand architecture's influence on patient outcomes and worker performance, infection control strategies, and best options for passive heating and cooling, and so on. 
By practice, the students are learning these skills for themselves. They are expanding. They are reading "On the Postcolony" by Achille Mbembe and "The Shadow of the Sun" by Ryszard Kapuscinski, disassembling their own notions of North and South, Africa and the West, the self and other. By being of use to Malawi, Malawi is preparing the "Global Studio" for the future of work.