Graduate of new MS in Medical Physics program finds path to success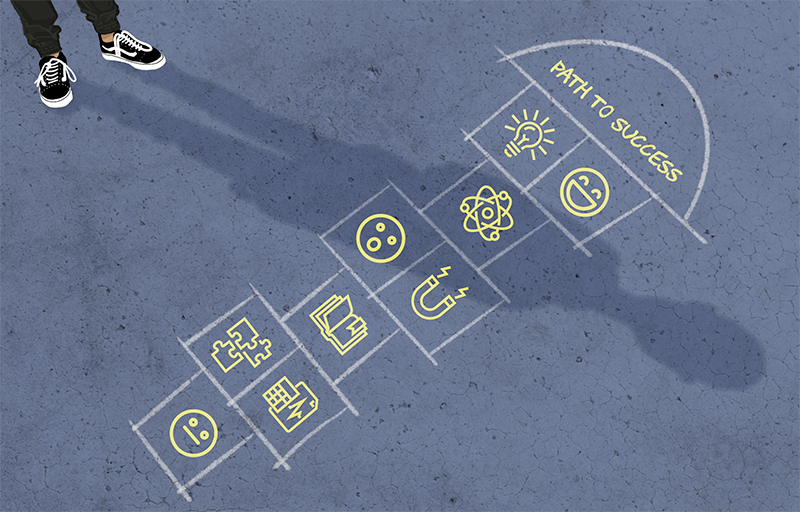 It was May 2017, and Matthew Schelin had just graduated from the University of Maryland, College Park, with a degree in bioengineering. He was anxious to get a job, pay the bills, and start living his life. But instead of seeking a career in science, he turned to the corporate world for his first job.
"Four years of undergrad in bioengineering was really, really grueling. I decided I'd had enough of this science stuff. I thought: Let me try my hand in something in the corporate America world and see if I like it," he says.
So he took a job with Deloitte Consulting in Washington, D.C., as a federal business technology analyst for the U.S. government. Schelin was 22 years old, working for a leading global firm, living in a vibrant and exciting city, making great money, getting great benefits, and working with great people. And he couldn't wait to get out. After only three months at Deloitte, he was already planning his escape.
"The company was fantastic—I just didn't like what I was doing. It was super slow and boring," he says. "I pretty much had no idea what I was going to do, but I knew the next move had to actually be something I wanted to do for a career."
Over the next few months, he interviewed for—and was offered positions in—the pharmaceutical industry. But that didn't excite him either. He was afraid of making the same mistake he had made by taking the Deloitte job—discovering a few months or years down the line that he just wasn't happy going to work every day.
"At that point, I didn't even care about the money. I learned the hard way that money doesn't really matter. I just wanted to do something that I enjoyed," he says.
Then he remembered an internship in medical physics he had at Anne Arundel Medical Center in Annapolis, Maryland, during his junior year as an undergrad. He recalled the outstanding training and the words of encouragement from his mentor, Brian Hasson, PhD, chief medical physicist at the facility.
"Dr. Hasson taught me a ton the three months I was there, and I loved what I was learning. He said I was good at it and was pushing me to do it for a career." Schelin says. "In the back of my head, I guess I was always thinking about it." 
The harder you work, the more it pays off in the long run.
He decided it was time to stop thinking about a career in medical physics and act on it. He reached out to Hasson, who convinced him to take that bold step into a more exciting future. Hasson had colleagues at Thomas Jefferson University and encouraged Schelin to enroll in the brand-new master's program in medical physics at the College of Health Professionals.
"He knew they would teach me well and set me up for a successful career," Schelin says, noting that Jefferson is the only program to which he applied.
Schelin quit his job at Deloitte in July of 2018 and started the medical physics program at Jefferson one month later. He calls it "the best decision I've ever made." 
Medical physics is the application of physics concepts, theories, and methods to medicine and healthcare for the diagnosis and treatment of disease. Specialties in the field include radiation oncology, diagnostic and interventional radiology (medical imaging), nuclear medicine, and radiation protection. Jefferson's program focuses on the therapeutic subfield, which is radiation oncology physics. Didactic courses and labs are complemented with extensive clinical experience, and students are trained in the latest cutting-edge technology, including the CyberKnife and GammaKnife.
Still, enrolling in the program was a leap of faith. The program was new—Schelin and three others would be the first cohort of the two-year MS in Medical Physics program at the College of Health Professions, Medical Imaging & Radiation Sciences. Jefferson hadn't even secured certification for the program in August of 2018, and without it, the students would not have been eligible for a residency. But program director and clinical instructor James Keller, PhD, assured them it would be in place before graduation; in fact, the program received full accreditation from the Commission on Accreditation of Medical Physics Education Programs (CAMPEP) by December of 2018. 
Schelin says the program is rigorous and moves at a rapid pace.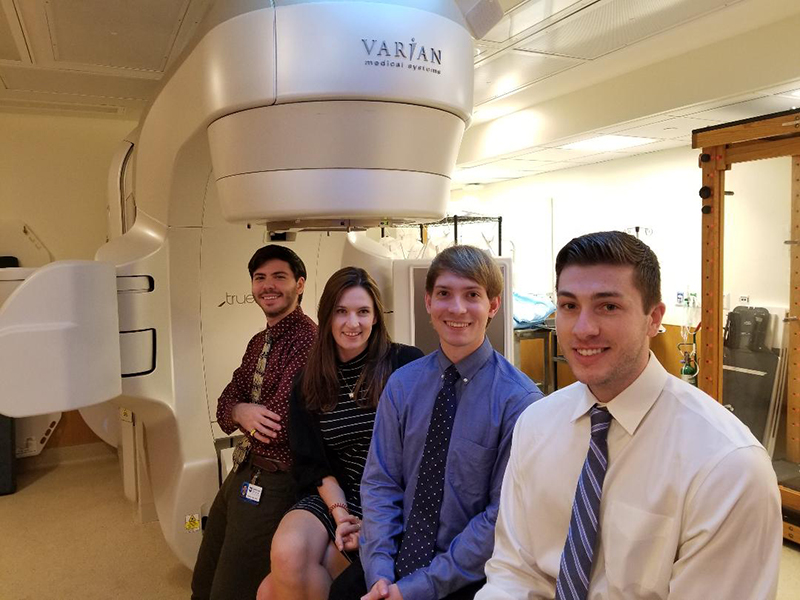 Matt Shelin (far right) joins his three classmates inside one of the Varian TrueBeam vaults at Bodine. Also pictured are (right to left) Alex Bredikin, Alexis Bowers, and Andrew Jaffe.
"It's incredibly fast!" he says. "But the harder you work, the more it pays off in the long run."
The first year consists mostly of classroom and textbook learning. "It was a lot of reading," Schelin says. "Then you graduate onto putting all that knowledge and all those pieces together in the clinic and in research the second year."
All four members of the inaugural class were accepted into residency programs at top hospital systems in the country, and they also passed part 1 of the American Board of Radiology certification.
"This is a testament to their dedication and hard work over the last two years," Keller says. "Given the quality of the residencies they have chosen, I could not be prouder of them."
Earlier this summer, Schelin started his residency at Mt. Sinai Hospital in New York City. The 25-year-old native of Long Island, New York, is excited to be home and feels fortunate to have gotten such a prestigious residency.
While the field of medical physics is growing, residencies are still very competitive. According to the United States Bureau of Labor Statistics, the fields of radiology and nuclear medicine will likely experience a substantial increase in the coming years, with the demand for some positions growing by as much as 24 percent in the next decade. The need for medical physicists will grow as the healthcare industry's ongoing development of high-tech medical equipment—and for specialists who can operate that equipment—grows. However, only about 33 percent of graduates coming out of medical physics programs currently are able to secure a residency.
"Job placement looks fantastic for us, but the graduation-to-residency part is a bit of a bottleneck," Schelin says, giving Keller all the credit for creating a program that offers Jefferson graduates the edge in a competitive market.
"Dr. Keller's contributions to the program have been tremendous; he set up the curriculum perfectly and does a ton of work behind the scenes that benefits the overall program. There isn't anything that we weren't taught or exposed to that we are supposed to know," he says.
While Schelin is not certain where he will end up after finishing his residency, he does know one thing for sure: He won't be looking to escape after three months.
"This program was a huge blessing for me," he says. "I took a really weird pathway to get here, but I found what I want to do. And I'm happy."