Shrinking World/Expanding Horizon
Shrinking World/Expanding Horizon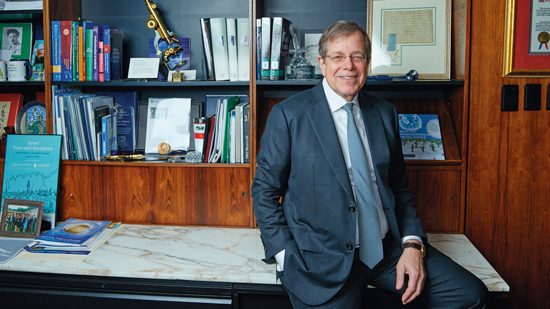 Is the world we live in getting smaller—or bigger?
Some would argue the world is getting smaller. Advances in travel and technology allow people from all over the world to connect and communicate both in person and virtually, bringing them ever closer together. Others would contend that it is getting bigger due to those very same advances. We can visit almost any place on the planet and interact with people from foreign locales and cultures to create opportunities for personal and professional growth.
At Jefferson we are dedicated to bringing people closer while at the same time expanding their horizons. That is our Global Jefferson initiative. By thinking and acting both locally and globally, we are preparing today's students to be tomorrow's citizens of the world—a concept Jefferson has embraced almost since its founding.
In 1860, three Japanese physicians traveled to Philadelphia to observe renowned Jefferson surgeon Dr. Samuel Gross perform surgery using a breakthrough anesthesia technique. Today, through Jefferson's Japan Center for Health Professions Education and Research, dozens of doctors, healthcare professionals, researchers, and students from Japan's leading hospitals and medical schools visit Jefferson every year.
A century later, in 1967, distinguished professor of medicine Dr. Joseph Gonnella reached across the Atlantic to create an affiliation between Jefferson and medical institutions in Italy. In 2018, Thomas Jefferson University built a permanent bridge of collaboration by partnering with Catholic University of the Sacred Heart in Rome to launch a first-ever international dual MD program. Later that year, building on collaborations between Jefferson and a diverse set of Israeli academic institutions, the Jefferson Israel Center was formally launched.
Beyond the first set of countries where we are cultivating Jefferson Global Centers (Japan, Israel, Italy, India, and Ireland), Jefferson has also formed international partnerships with organizations in China, Finland, Great Britain, France, Australia, Canada, Portugal, Haiti, Puerto Rico, and Germany, along with selected countries on the African and South American continents.
The merger of Thomas Jefferson University and Philadelphia University in 2017 has amplified our collective global reach. The breadth of professions we now span—in architecture, business, design, engineering, fashion, medicine, science, social sciences, textiles, and more—translates into an even richer set of global partnership opportunities, in research and education alike.
Today, a world-class education system is defined by how well it prepares students for a rapidly changing universal environment. More than 40 million U.S. jobs are tied to international trade, and today's employers are looking for cross-cultural skills that allow employees to work in diverse teams and with clients across the globe. When our students are given the opportunity to better understand and experience the wider world—and the diversity of the people in it—they gain a competitive edge in business and industry.
By acting locally and globally, we are leveraging international partnerships, investing in human capital, and encouraging innovations in science and professional training—and we are giving life to our mission, and our promise, to redefine humanly possible.
Mark L. Tykocinski, MD
Provost and Executive Vice President for Academic Affairs
Thomas Jefferson University
Anthony F. and Gertrude M. DePalma Dean
Sidney Kimmel Medical College