Rams Are Winners On and Off the Field
Student-Athletes Recognized for Volunteer Work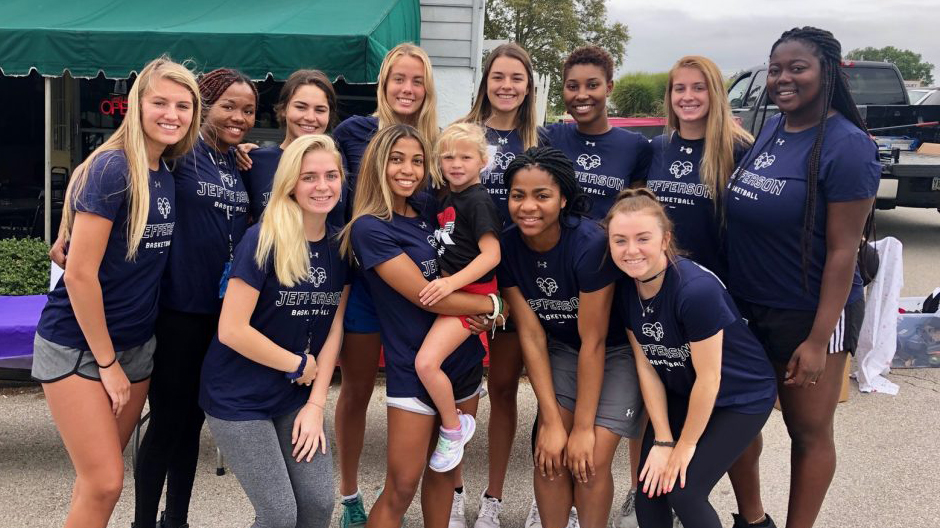 The student-athletes at Thomas Jefferson University are winners—but their victories have nothing to do with scoring on the basketball court, soccer field, baseball diamond, or any other field of play. They've put notches in the "win" column for their work on behalf of their communities.
During the fall of 2019, Rams student-athletes participated in the NCAA Team Works and Helper Helper Challenge, a community-service mission.  
Over the course of the two-month challenge, which ran from September to November, Rams student-athletes logged 3,583 total hours of community engagement, according to Pat Horvath, the university's Coordinator of Community Engagement and head baseball coach.
The baseball team alone averaged 32 hours per student-athlete, logging nearly 1,500 hours collectively. In doing so, the team topped the Central Atlantic Collegiate Conference (and was second among all DII conferences) in the NCAA Team Works and Helper Helper Challenge.
Overall, Jefferson cracked the Top 10 in participation. Horvath says the ranking is emblematic of increased community engagement levels each year since 2015.
"We have built great relationships with Athletes Helping Athletes, Special Olympics Pennsylvania, Beats for Bella, Team IMPACT, and Erving Youth Basketball Experience," Horvath says. "With these partnerships, our athletic department has been able to have a greater impact on the youth in our area."
He credits the Student Athlete Advisory Committee (SAAC) for an outstanding job of hosting and organizing the community engagement events and encouraging involvement from student-athletes.
Some of the highlights of participation include:
The Jefferson Rams women's basketball team volunteering (for the fifth year in a row) at the annual Beats for Bella golf outing at Jeffersonville Golf Course in September 2019. Beats for Bella is a non-profit organization that strives to create awareness for Congenital Heart Defects (CHDs).

The Jefferson Rams women's volleyball team raising more than $1,200 for the Sideout Foundation during its annual "Dig Pink" game.
The Jefferson Rams women's basketball squad teaming up with Julius "Dr. J" Erving at the hoops legend's Youth Basketball Experience at the Sixers Training Complex in Camden, N.J.
The Jefferson Rams women's soccer team participating in their annual "Vs. Cancer" match designed to raise awareness and funds for childhood-cancer research. The event raised more than $2,000 for the organization.