Jefferson Professor Trains the Next Generation of Women's Health Professionals
As a young college student, Shawana S. Moore spent a winter break sitting by her mother's side at Thomas Jefferson University Hospital. As her mother recovered from a serious illness, Moore took particular notice of the nurses who were there every day providing care and contributing to the healing of her loved one.
"That was my first direct observation of nurses and what they did. They provided not only the right (clinical) care, but education and counseling for both my mother and our family—from both a physical standpoint and an emotional and health literacy standpoint," she says. "From then on, I pledged that I would become a nurse."

She kept that promise in a spectacular way. Now she is Shawana S. Moore, DNP, MSN, CRNP, WHNP-BC—a nurse practitioner, researcher, advocate, mentor, and assistant professor and director of the Women's Health-Gender Related Nurse Practitioner Program at the Jefferson College of Nursing.
It was an unexpected career shift—she was a planning on a career in biological research. But once she heard the calling, there was no turning back.
After graduating from Wilberforce University, a historically black university in Ohio, with a Bachelor of Science degree in biology, Moore returned home to New Jersey to pursue a second bachelor's degree at Jefferson. She completed an accelerated program in one year; a year later, she earned her Master of Science in nursing and became certified as a women's health nurse practitioner. In 2013, she received her Doctor of Nursing Practice.
All along her path to becoming a nurse practitioner, there was never a question that she would put her studies, her energy, and her passion into women's health.
"Everything came full circle to me after my mother's illness," Moore says. "I witnessed firsthand from my own family system and in the community in which I lived how, as women, we put ourselves second—we care for everybody else first. So I said, 'Hey, I'll be that person in the room with a patient to educate them about the importance of taking care of themselves first so they can care for individuals within their family and their community.'"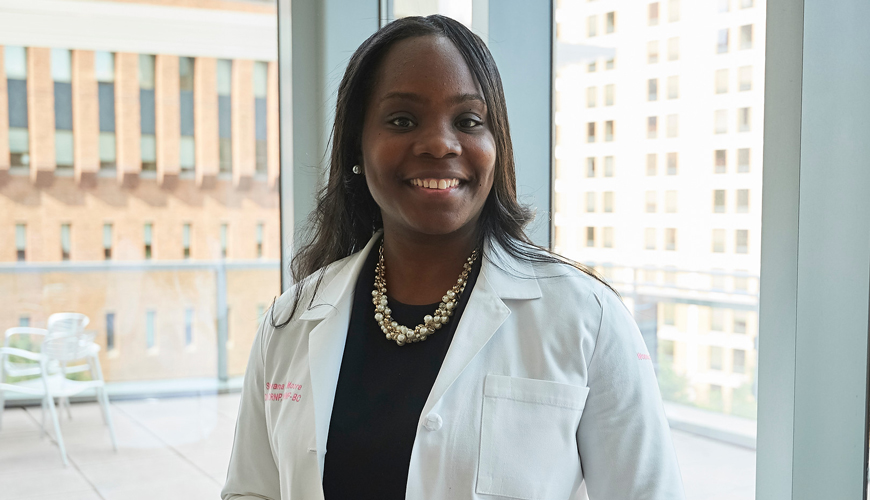 Shawana S. Moore, DNP, MSN, CRNP, WHNP-BC, Director of the Women's Health-Gender Related Nurse Practitioner Program
In 2010, the Commission on Collegiate Nursing Education approved certification of Jefferson's Women's Health-Gender Related Nurse Practitioner program. Moore was in the first cohort at Jefferson.

The program prepares graduates in the care of women across the health-illness continuum in hospitals, labor and delivery units, outpatient clinics, and primary care practices. It focuses on clinical and mental healthcare for women of all ages, including those in underserved communities, as well as transgender patients.
"We were a small but mighty group of three individuals," Moore says of that first class. Since the time she progressed from student to teacher in the program, the number of students has steadily increased. This summer, Moore will be teaching an incoming class of 18.
Her mission as an educator, she says, is to instill in her students the importance of understanding the people and communities they serve, and to teach them how to make a difference on a larger scale through advocacy and activism. 
"Being in academia, we are in a really good position to train the next generation of nurse practitioners to go into communities and educate women on appropriate screenings and preventive care; to create community-based programs for women; and to be involved with policy and advocacy to make changes for women's health in general," says Moore, a member of the board of directors for the National Association of Nurse Practitioners in Woman's Health.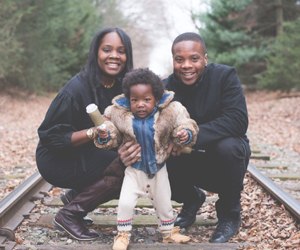 The Moore Family
Her passion for women's health has brought her full circle, back to Camden, New Jersey, where she was born and raised. Although she now resides half an hour north in Willingboro, Moore and some of her fellow Jefferson alumni work at a family health clinic in Camden, ranked as the poorest city in the state. 
Her upbringing in an underserved area, and the mentoring she received as an adolescent and young adult, fueled her dedication to education and mentorship. During high school, Moore was given the opportunity to participate in various enrichment programs, including two summer courses in science and math at Rutgers University where she received guidance and encouragement from several faculty members. 
Graduating as valedictorian of her class at Camden High School, Moore was set to attend North Carolina Central University in Durham on a four-year athletic scholarship for track when she had a change of heart—and college. 
After speaking with then-Wilberforce vice president Marshall Mitchell during his visit to Camden High, Moore decided to take him up on his offer of a four-year academic scholarship. 
Mitchell and the university provided Moore with the support and education she needed to continue on her path to success.
"Mentorship made a huge difference in my growth and development as an adolescent female," she says. "I knew what mentorship had done for me, and I always wanted to be able to give back in that same capacity."
To do that, Moore applied for—and received—a few small grants to conduct research in, and create programs for, adolescent empowerment, specifically with females in underserved communities. 
How do you impact society? By being able to give your gifts to others. By doing good for other people...
One grant allowed her to create a girls' empowerment program at a middle school in Somerdale, New Jersey, linking Jefferson nursing graduate students to mentees between the ages of 13 and 14 to educate the young girls about their health and well-being. The goal is to build self-esteem, self-awareness, and self-confidence, and provide role models in the mentors, all of whom are studying to be women's health nurse practitioners. 
"It's my hope that some of these girls will have the desire to go into nursing," Moore says.
The program was so successful last year that it has been renewed for 2020, and Moore has applied for another grant to expand the program into a school in the Kensington section of Philadelphia. Further, she is exploring creating a mentoring and leadership program for boys.
 "While boys weren't my focus in the beginning, being the mother of a 3-year-old boy has opened my eyes to the importance of their education at an early age," she says.
Moore continues to look for ways to improve the continuum of care for women throughout the region, and knows that her mission starts in the classroom. It's where all of her passions—clinical care and emotional support for patients; advocating for change; and creating programs that inspire and enhance lives—converge to educate the next generation of nurse practitioners. 
"In order to contribute to overall positive change, nurse practitioners have to be involved in more than one arena because education, research, policy, and advocacy go hand in hand," she says, adding that in the end, the goal is to impact society.
"And how do you impact society?" she asks. And she answers: "By being able to give your gifts to others. By doing good for other people. For me, it's making sure Jefferson College of Nursing leaves an impact on all the communities we serve. That's really all I hope for."