Jefferson students are helping Philadelphia's refugee communities break through to a safer, healthier future.
Sunidhi Ramesh, a second-year medical student at Sidney Kimmel Medical College (SKMC), knows a specific time and place where you can help someone in need.
 When an individual flees torture in their home country and seeks asylum in the United States, there's a few hours set aside for an evaluator, should one be available. The evaluator, typically a volunteer physician, listens to the asylum-seeker's claims of torture and escape. The evaluator then weighs that story against the evidence left on their body or in their psyche.
For example, an asylum-seeker undergoing evaluation may point to a scar in his scalp. He may say a soldier cracked his skull with a rifle butt. The scar is L-shaped, the evaluator notes, and is consistent with the alleged instrument of injury. The asylum-seeker points to a bald patch of shiny, rippled skin. Soldiers then dragged him on the street, he says. Again, consistent, the evaluator notes. 
What happened to those who were fleeing with him, the evaluator asks. Perhaps the asylum seeker can't find the words. 
The evaluator will draw up a report in the form of an affidavit that attests to the consistency between the asylum seeker's claims and the evidence. This affidavit will likely be the single most important document in determining the asylum-seeker's fate. 
As recently as 2016, approximately 73,000 people applied for asylum in the United States, according to U.S. Citizenship and Immigration Services. About 20,000 were granted protected status. Of that successful minority, roughly nine out 10 had medical evaluators, according to the Philadelphia Human Rights Clinic (PHRC), a group that organizes and trains physicians to conduct this crucial step.
Ramesh, who volunteers as a training organizer with PHRC in addition to her studies at SKMC, has yet to conduct an evaluation. She's not a medical doctor yet.
"I want it to be part of my career," she says.
It's a warm October night, and Ramesh is at Puentes de Salud, an immigrant-focused health clinic at the southern edge of Center City, Philadelphia, founded by Jack Ludmir, MD, executive vice president of physician engagement and integration for Jefferson Health, and associate provost of community and global initiatives for Thomas Jefferson University. 
Ramesh is helping organize a training session to introduce medical students from Jefferson, the University of Pennsylvania, Drexel University, Philadelphia College of Osteopathic Medicine, and Temple University to PHRC's work. She booked the room, a kid's art studio and a library on a mezzanine at Puentes. She ordered the food, several aluminum trays of basmati rice, samosas, curries, chana masala, naan bread, and more, all of which goes fast under the appetites of 55 or so medical students.
Ramesh sets up the projector for a slide show and hangs back in the room. A year ago, she attended a similar training session, saw the slide show, and decided to join PHRC.
The slides reach an image of the aforementioned asylum-seeker with an L-shaped scar on his scalp. 
Our goal is to improve the general wellness.
Alisa Gutman, MD, assistant professor of psychiatry at Penn's Perelman School of Medicine, and PHRC's founder, conducts the training. She goes through more slides. One shows a strip of cigarette burns on an asylum-seeker's arm. The next shows glossy scars around the shoulders of a man who had been hung by ropes for several days. The slides reach the subject of female genital mutilation. Dr. Gutman, having mercy on the room, has chosen line drawings over photos.
"A lot of times we are scared to confront the terrifying parts of life," Ramesh says later. "But these are people who have done it," she says, meaning torture survivors.
Ramesh and Gutman choose the word "survivor" over "victim." They do so for the sake of accuracy. The overwhelming impression one gets when working with refugees, they say, is of resilience. 
"It's humbling," Ramesh says, "that people have the ability to even put these things into words."
Ramesh's parents came to the United States from India a few years after she was born. They came from families that farmed coffee and coconuts. They came for a better life for their children. Her parents' sacrifice, the risk they took and the way they worked, instilled in Ramesh a certain belief in freedom.
"People have the right to exist wherever they go," she says.
Unfortunately, it's not that simple.
In October 2019, the U.S. approved zero asylum applications. The process, slowed by over two years of executive orders, memoranda, and orders from the Department of Justice, had ground to a halt. 
The federal door to asylum has narrowed, yet Philadelphia remains home to several thousand refugees. Jefferson, perhaps modeling the altruism found in its students, is one of the largest single medical providers for refugees in the city and one of only four healthcare providers in the country recognized by the Centers for Disease Control and Prevention as a Center of Excellence in Refugee Healthcare.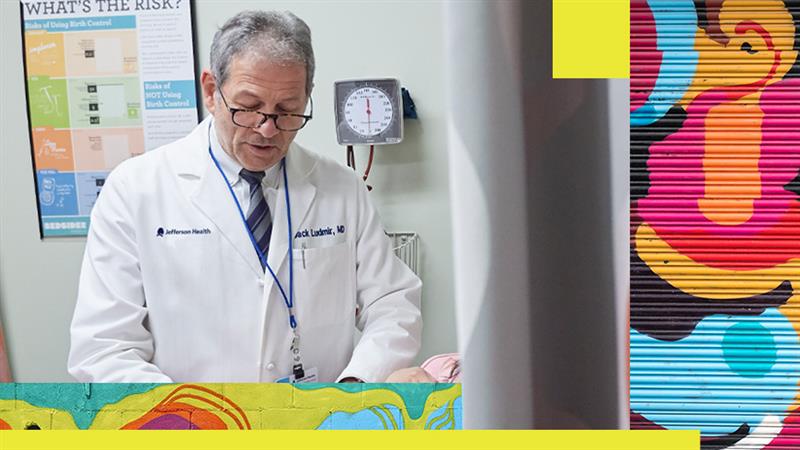 In 2020, Jefferson will strengthen its commitment to refugee health by opening the Hansjörg Wyss Wellness Center in South Philadelphia. Made possible by a $3.1 million gift from the Wyss Foundation, the center will form a hub of clinical and educational outreach programs for the city's immigrant-dense southern neighborhoods.
The desire and means to help, however, is not enough to ensure positive results. Refugee communities come from all corners of the globe, and bring with them a correspondingly diverse range of languages, cultural practices, diets, norms, education levels, religious considerations, and health habits.
To serve refugees, healthcare providers cannot presume a given community's needs. They have to partner with them.
"You can't go in saying, we're the physicians in the white coats and we're going to take the lead," says Marc Altshuler, MD, clinical leader of the Hansjörg Wyss Wellness Center and founding member of both the Jefferson Center for Refugee Health and the Philadelphia Refugee Health Collaborative.
"Our goal is to improve the general wellness, and if, for example, we don't know how to find culturally appropriate foods to help manage health conditions, then we need people in the community to help," Dr. Altshuler says.
So many of us here are immigrants, or first generation.
Jefferson's student groups are following this tack, partnering with mutual aid organizations, arts groups, religious organizations, neighborhood clinics, legal advocacy groups, and more.
"If you look at all the students' initiatives, they're motivated to help take care of these individuals," Altshuler says. "They work side by side with their partners."
Whereas Ramesh and the PHRC have identified an inflection point—a time and place where doors to asylum can open—Jenn Hsu, a third-year occupational therapy student, has learned an approach. 
It begins with listening.
Last winter, Hsu completed an OT therapy fieldwork rotation with Innovative Supports Program for Immigrant and Refugee Empowerment (INSPIRE), a long-running partnership between the immigrant and refugee support organization Nationalities Services Center and the Department of Occupational Therapy at Jefferson's College of Rehabilitation Sciences.
 One of Hsu's home-visit clients, a young refugee mother and homemaker in South Philly, had to get on the bus. The woman, whose identifying details are omitted here, needed to get across town for doctors' appointments for herself and her baby, and wanted to go to English classes and run errands beyond the neighborhood. Life demanded that she go further. 
But the city overwhelmed her. The sheer existence of city traffic—its heavy motion, screeching brakes, and blasting horns—acted as a barrier, confining her to her block. Even if she conquered the dangerous timing of crossing the street to wait at the bus stop, an act of faith for anyone, she'd have to read the route numbers on the sign and then match them to the bus, that massive vehicle sailing down the street toward her.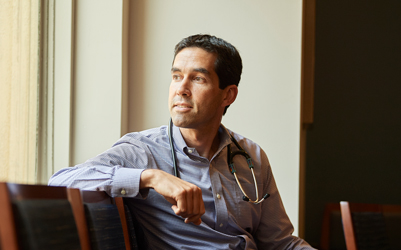 Marc Altshuler, MD
Director, Center for Refugee Health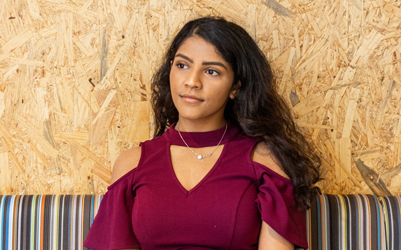 Sunidhi Ramesh
Sidney Kimmel Medical College student and volunteer
Once on the bus, after handling the fare and finding a seat, the city would fly by the windows, setting her adrift in a vast and strange grid.
Hsu and an OT classmate met the woman in her home. She told them that she had fled her home country. She was from a remote village and had never learned to read, had never learned numbers, and had never before lived in a city.
To help this woman, Hsu and her classmate began by walking with her. Each time, they'd go a little further. They practiced reading numbers off the street signs and buildings. Block by block, they crossed the streets.
"What we do as OTs is break down the process so that the client can be successful," explains Stephen R. Kern, PhD, professor and director of the Master of Science program in Occupational Therapy. "We try to meet them at the level just beyond where they are, but that we anticipate they're going to be able to achieve. Challenge drives to the next challenge."
The client may be an Afghan living in Northeast Philadelphia, or a Congolese refugee out in West Philadelphia. They may have endured war and years in refugee camps, and so developed survival skills that would bewilder the average American. But they may have no experience with what counts for "standard employment." They may have never filed taxes, paid a cashier at a store, driven a car, decoded a column of street and parking signs, paid utilities, trouble-shot a misbehaving stove, and so on.
At first glance, these are banal tasks, but for a newly arrived refugee, they may be the friction points between shifting realities. 
But, people are resilient, and by taking discrete and challenging steps toward their goals, their realities can expand.
"Clients can make great strides, just by practicing the skill in the natural environment," Kern says. "The occupational therapist then backs out of that supportive role, and lets the client take the lead."
Recently, however, another kind of barrier has arisen.
In January 2017, Donald J. Trump was inaugurated as the 45th president of the United States. He had promised a border wall and a ban on certain kinds of immigrants. Soon, there were raids and rumors of raids.
Refugees are often the survivors of brutal regimes. In their lives, they've seen campaign bluster turn to massacre.
Kern recalls: "There was a lot of fear. A lot of trauma was resurfacing. People were isolating themselves and staying in their homes." 
To break through the fear and isolation, the distance between neighborhoods, cultures, languages, education levels, and life experience, you need partners.
Refugee Health Partners (RHP), a Jefferson student group that's been running since 2009, has them in spades.
On a soft autumn night, a few dozen RHP volunteers get together for a brainstorming session at the first floor lounge of the Dominic and Michele Frederico Building, home of the Jefferson Accelerator Zone, on South 10th Street. After a quick dinner from several trays of Chipotle, the students form breakout groups amid the couches. Night descends on the windows. Ambulances roll by. 
Outgoing RHP co-president Malika Madhava, SKMC 2020, steps around the ottomans and chairs to check in. Incoming co-president Kaushal Desai, SKMC 2021, fills Madhava in on an "English for the Doctor's Office" class they ran for Arabic speakers through Mural Arts Philadelphia. Mariam Wanees, SKMC 2021, another incoming RHP co-president, tells Madhava about a planned "Rx" day with the Bhutanese American Organization. They'll help clients organize meds, check doses, and set schedules. Kendrick Go, SKMC 2020, outgoing co-president with Madhava, updates her on planned home health visits organized through the African Family Health Organization and African Cultural Alliance of North America.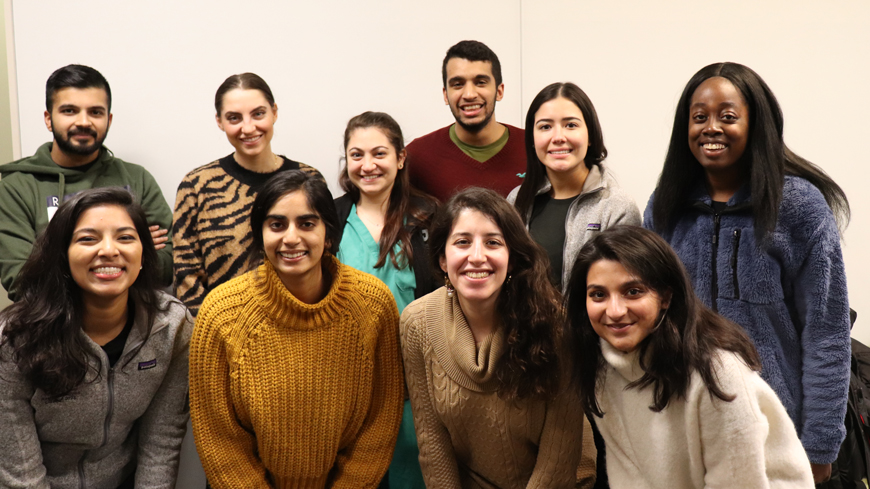 RHP coordinates two dozen-plus community groups with as many busy student volunteers. Madhava, Go, Wanees, and Kaushal have to sync up calendars and schedules, plans, contact info, neighborhood liaisons, complaints, needs and resources, strengths, and blind spots. They harmonize the students' desire to help with the refugees' need for support.
But why refugees? Why are so many students at Jefferson working to break down the barriers around these communities? 
Wanees and Madhava tag team the answer.
"Wanting to help this population speaks to Jefferson's diversity," Wanees says. "So many of us here are immigrants, or first generation."
"I've been thinking about this too," Madhava adds. "I think it's also a reflection of Jefferson's culture of giving back."
Among RHP's mainstays is a collaboration with Pennsylvania's Migrant Education Partnership (PMEP). Together they provide after-school tutoring and college preparation for immigrant and refugee students every Wednesday at Horace Furness High School in South Philadelphia, a few blocks away from the construction of the Hansjörg Wyss Wellness Center in the historic Bok Building. 
On this Wednesday afternoon the PMEP educators, three energetic men who go by Mr. Thann, Mr. Kevin, and Mr. Kamal, have organized a "Thanksgiving" for the kids, albeit turkey-free. The school day's final bell rings and over the next 15 minutes, a few dozen students filter into the library. They go for the stack of pizza boxes. One boy with a jean jacket and dangling ear buds makes a mountain of potato chips on a paper plate.
The PMEP educators are themselves refugees. They know the kids well.
Mr. Thann patrols, lovingly busting chops. He raises a cheer for a boy sporting a black and orange T-shirt for the Furness Falcons. The boy hasn't shown up for a few weeks, and he and Mr. Thann shake hands with mock formality. 
"Very nice to meet you, sir," the kid says, grinning.
"Que pasa," Mr. Thann says. "No tarea? Read a book!"
By the barred windows facing east, Mr. Kamal helps a girl decode the fields of a FAFSA form on a laptop.
Mr. Kevin is handing out pizza slices and sharing tips on taking notes, a challenge for these English-as-a-second-language learners. Just listen in class, he says, but record the lecture on your phone, and make a quiz from it later.
Despite the 16 or so languages between them, including Vietnamese, Nepali, Khmer, Spanish, and Swahili, the kids mix easily. They're high-schoolers, mostly clad in sweatshirts and black jeans. They talk about crushes. They play games on their phones. 
Jenn Hsu is there. In addition to working with the INSPIRE program, Hsu is a member of Refugee Health Partners. A few of the kids asked for help with SAT prep, and she's ready to tutor.
For now, the kids are working on their pizza, and Hsu hangs back.
Her parents came to New Jersey from Shanghai in the 1980s. They left China voluntarily, Hsu is careful to point out. "But there are experiences that are the same," she says. "Navigating a new culture, a different language, dealing with discrimination."
In her third year studying occupational therapy at Jefferson, Hsu is at once in another world and close to these students.
Furness isn't far from where Hsu, her classmate, and the young mother practiced walking the blocks, crossing the streets, and reading numbers. 
"Coming to a new country is not always a happy story," she says. "It feels good to help people find their way."